I was born in the Village of Richiboucto, Kent Country, New Brunswick, Canada and raised in the City of Moncton, New Brunswick, Canada. Served in the United States Army twenty-six years. Stationed in France, Arizona, Texas, Virginia, Germany, Belgium, Morocco and Republic of Vietnam. Married since 1967 to my beautiful wife Francine. Our two sons are currently serving in the United States Navy. Three beautiful grandchildren. Hobbies include travel in our Autostar European motorhome, bicycling, tennis, ping pong, wild mushrooms geneology and surfing the World Wide Web.
We reside in Saint James, France a community located twenty minutes from Mont St. Michel and the same distance from Avranches and twenty minutes from Fougeres. I am the Superintendent of Brittany American Cemetery.


Our 2002 Autostar Auros

Our camper is self-contained with 120 liter fresh water tank, 100 liter grey water tank, Thetford marine cassette toilet, 220V/12V/Gas Refrigerator, hot water heater, gas furnace, and garage for two bicycles or a scooter. Power is an modified Alko Chassis, Fiat 2.8 liter Diesel. Sleeps 3. Motorhome is fifteen months old and already has 30,000 Kilometers. Mostly driven on secondary roads.

Camping in Europe

We have stayed overnight in Town Squares, alongside Rivers and Canals, parking lots and campgrounds. Our security is an 8 yr old border collie who does not like people.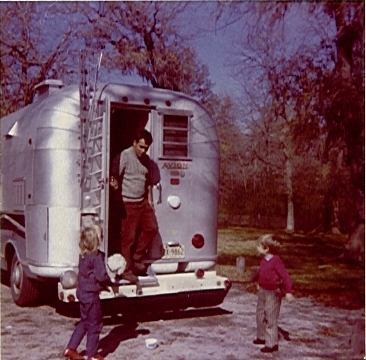 Somewhere in Central Texas about 1970. 1966 Avion self-containe slide-in camper. A younger me with son Richard and cousin Debbie
Avion camper was sold in Germany about 1975. Best Self contained unit owned.